Media Values - order information
Media Values brings together the writings of 27 experienced international journalists and artists to celebrate Bill Porter's life and reflect on the values that he promoted through the ICF.
Media Values
Inspired by Bill Porter
Edited by Richard Keeble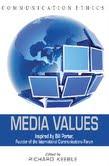 Shortly before his death in 2009 Bill Porter suggested the publication of a book in which colleagues could highlight in many different ways the fundamental principles of the ICF. Media Values is that book, drawing together 29 chapters inspired by Bill Porter. Since it appears sadly following his death, it can now serve as a timely celebration of his life and his inspirational campaign.
Commenting on the book, Sir David Bell, non-executive director of the Economist, chair of the Media Standards Trust and recently retired chairman of theFinancial Times writes: "This is an impressive book inspired by a remarkable man who was devoted to the simple idea that the media can have high standards and prepared to campaign tirelessly to make this idea come alive. As this book shows, his impact was considerable and the torch which he lit is burning stronger than ever."
The book is edited by Richard Lance Keeble, professor of journalism at the University of Lincoln. The contributors include:
Bernard Margueritte argues that moral leadership can inspire higher media standards
Alan Channer stresses the role of the theatre as a force for good
John B. Fairfax traces the impact of proprietors on newspaper history
Carol Goar explains how she learned some risks are worth taking
Martyn Lewis promotes solution-oriented journalism
Magnus Linklater argues the internet is no reason to abandon the industry's founding principles
Rafael Marques de Morais assesses media standards in Angola
Natalya Skvortsova suggests it's time for journalists to admit their mistakes
Bob Webb argues that all journalists have a duty to challenge racism.
Book Contents
Media Values 
The complete Contents for Media Values are as follows: 
Introduction
Richard Lance Keeble 
Section 1: Bill Porter, journalist and campaigner for higher media standards 
Chapter 1
From "If it bleeds, it leads" to "If it answers needs, it leads"
Bill Porter
Chapter 2
Bill Porter: Creating a climate of confidence in the media
William Stainsby, lecturer, editor and writer
Chapter 3
Making the positive as gripping as the negative remains the challenge
Michael Henderson, journalist, broadcaster and author of eleven books
Chapter 4
New media and new civilisation: An appreciation of Bill Porter
Bernard Margueritte, columnist and ICF President 
Chapter 5
Bill Porter obituaries from The Times, Independent and Sydney Morning Herald 
Section 2: Bill Porter and the work of ICF 
Chapter 6
How it all happened: The phenomenon of the ICF
John Carlisle, Visiting Professor at Sheffield Hallam Business School, in conversation with Hugh Nowell, a Director of the ICF 
Chapter 7
Lessons learned at the Sarajevo congress
Grigory Gundarin, editor-in-chief of the publishing house Gazetny Mir (Nizhny Novgorod) 
Chapter 8
How the media can be the heralds of a "new world order" 
Henry Heald, Canadian representative for the ICF
Chapter 9
Why the ICF's Sarayevo Commitment of 2000 remains so relevant in today's world of information overload
John Munro, publisher, editor and production manager 
Section 3: ICF principles and practice 
Chapter 10
The press: providing the protective shield to community interests
John B Fairfax, director of Fairfax Media 
Chapter 11
Why challenging racism is a mission for all journalists  
Bob Webb, distinguished US journalist who worked for more than 30 years on the Cincinnati Enquirer 
Chapter 12
How I learned that some risks are worth taking
Carol Goar, journalist for 35 year in Toronto, Ottawa and Washington 
Chapter 13 
The documentary film as a force for good 
Alan Channer, maker of documentary films that focus on inter-cultural understanding and reconciliation 
Chapter 14
Why heart-focused PR – Personal Relations – is the future  
Simon Cohen, founder and managing director of global tolerance
Chapter 15 
"We need a movement for responsible readership" 
Gordon Graham, founder and now Honorary President of the Kohima Educational Trust
Chapter 16
The art of obituaries: What will they say when I die?
Michael Smith, freelance journalist and author 
Chapter 17
The theatre – introducing us to ourselves
Hugh Steadman Williams, author of fifteen stage plays 
Chapter 18
Solutions-driven journalism
Martyn Lewis, CBE, a television journalist for more than 32 years 
Section 4: Media values in the global context
Chapter 19
Journalism for conflict resolution
Fabrice Boulé  co-founder of the Media21 Global Journalism Network Geneva 
Chapter 20
Assessing media standards in Angola
Rafael Marques de Morais, journalist, writer, organiser and activist 
Chapter 21
Saying Sorry to the Aborigines: How the media played such a crucial role
John Bond, from 1998 until 2006 Secretary of Australia's National Sorry Day Committee 
Chapter 22
Reporting conflict: how the correspondent can avoid becoming cynical in the face of tragic events
Charles Chasie, an independent media commentator, author and research scholar 
Chapter 23
Looking beyond the "Troubles" and towards a commitment to global justice 
Faustina Starrett, a lecturer in Derry, Northern Ireland
Chapter 24 
Now's the time for professional journalists to work at correcting mistakes 
Natalya Skvortsova Professor in the Journalism Department at the University of the Russian Academy of Education, Nizhny Novgorod
Chapter 25
How the Czech media emerged from under the gloomy cloud of communism
Tomáš Vrba, a Czech journalist, translator and editor 
Section 5: Media values in the age of the internet 
Chapter 26
How ethics and exposure compete in modern journalism
Magnus Duncan Linklater, a newspaper columnist and Scotland Editor of The Times 
Chapter 27
How professional journalists can meet the challenges of the web
Chapter 28
Making sense of the senseless
Danko Plevnik, columnist on the Croatian daily newspaper, Slobodna Dalmacija 
Chapter 29
The internet and journalism: Responsibility, conscience and the law
Olga Noskova worked at the Nizhny Novgorod television channel NNTV for 30 years, the last 15 years as the director.